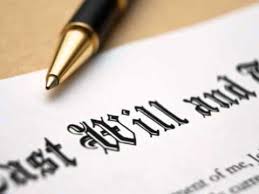 A man who was left out of his late uncle's will has been accused of doctoring another version of the will, reinstating his claim and reducing that of other family members, a court has heard.
William Venning, 55, faces charges of conspiring to make a false instrument, conspiring to pervert the course of justice, fraud and converting criminal property.
Venning had originally been a beneficiary in his uncle Peter Ascott's will. However, after Venning split from his wife, Ascott removed Venning from his will.
Sally Clarke, 57, and Stephen Martin, 52, are also accused of  conspiring to make a false instrument and conspiring to pervert the course of justice charges for allegedly signing the falsified will as witnesses.
Prosecuting barrister Jason Beal told the court,
"These three defendants all played a role in the forging a subsequent use of the will of Peter Ascott. Venning was disinherited by Peter Ascott and wanted to get it back. He did so by producing a will we say was a forgery, either signing it himself or getting somebody else to do it."
Mr Beal added,
"Hedley Venning was married to Susan Venning for about 20 years but in 2010 Venning and his wife began to have marriage difficulties and separated, a separation which was far from amicable.
"They divorced in December 2011. Susan Venning and Mr Ascott were also very close and following the break-up Mr Ascott took the side of Mrs Venning and made it clear he disapproved of how Hedley had behaved.
"Peter Ascott was a man with strong religious and moral values and his relationship with Hedley Venning soured. As a result of the way he thought his nephew had behaved he decided to change the terms of his will."
Mr Beal further said: "Sally Clarke and Stephen Martin said they'd been present when Peter Ascott signed the will.
"The third will was examined. It was mostly typed and had a few handwritten entries. One was said to be the signature of Peter Ascott but was not his signature. A handwriting expert examined it and said it showed a pictorial similarity but differed in fluency featuring a number of unexpected pen lifts.
"Hedley Venning used the opportunity to disinherit those he had fallen out with and also took ownership of a Honda Jazz motor car which he sold for £4,000."
All three defendants deny the charges against them.
The trial continues.
http://wp.freedomofcreation.co.uk/amt/wp-content/uploads/sites/132/2017/11/Wills.jpg
194
259
amtlawyers
http://wp.freedomofcreation.co.uk/amt/wp-content/uploads/sites/132/2017/03/amt-logo-408x240.png
amtlawyers
2018-05-14 08:55:19
2018-07-30 11:18:08
Disinherited nephew faked uncle's will