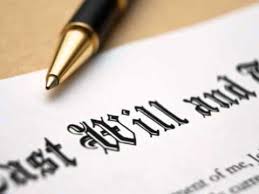 A carer who 'guided the hand' of her dying millionaire employer as he signed over almost half his £1million fortune to her family has been stripped of the money.
Donna Henderson is alleged to have helped retired banker Marcel Chu sign a will which handed her and her children half of his estate.
Chu had earlier made a will in 2008, dividing his estate between his immediate family and a close friend.
However, the 'surprising' deathbed will, dated May 9 2014, just two days before Chu died, left 40% of his wealth to Mrs Henderson and her children.
A handwriting expert concluded that the signature on the will was not Marcel's and the judge ruled that the dying man lacked mental capacity when the document was signed.
High Court judge Nigel Price has now ruled the will invalid.
Henderson now faces £85,000 in legal costs.
Giving his ruling, Judge Price said: 'The siblings' case is that the 2014 will is invalid, or that the circumstances of its making were so suspicious that it cannot be regarded as valid…It may be that it is permissible for a testator to be helped in signing a document, but the scope of such assistance must be limited.
'There is a distinction between leading and steadying the hand. The distinction is to be drawn when assistance goes so far as to lead in the formation of the letters.'
He added, 'Although one might have expected a small, or even significant, legacy to be left to a carer, the wholesale change in the will in favour of Mrs Henderson is surprising in all the circumstances.
'Marcel's close family appear to have been kept out of the picture in relation to the writing of the new will and the time of the final illness.'
The judge concluded, 'I have no hesitation in reaching the conclusion that the siblings are entitled to a decree in solemn form in favour of the 2008 will.'
http://wp.freedomofcreation.co.uk/amt/wp-content/uploads/sites/132/2017/11/Wills.jpg
194
259
amtlawyers
http://wp.freedomofcreation.co.uk/amt/wp-content/uploads/sites/132/2017/03/amt-logo-408x240.png
amtlawyers
2018-05-08 09:51:22
2018-07-30 11:17:57
Carer who guided dying millionaire's will is stripped of her money